From the President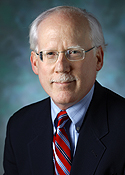 Dear Colleagues,
Last month I briefly introduced myself and my presidential initiatives, which revolve around the theme of optimal care for the food allergic patient. I am very excited about this initiative as food allergy is playing an increasingly important role in our specialty and this role will only increase as the disease becomes more prevalent and treatments become available. My theme has a focus on four key areas of need: a rational approach to treatment, optimizing prevention, making an accurate diagnosis, and best practices for the prevention and treatment of anaphylaxis. I would like to use this message to build on the introduction I gave last month and now discuss each of these areas of need in more detail.
A Rational Approach to the Treatment of Food Allergy
This area is complex and rapidly evolving. First, "off label" treatment of food allergy is growing, although we still do not have any clear guidelines for its use. Second, we are likely to see Food and Drug Administration (FDA) approved therapies for peanut allergy in the near future, with both peanut oral and epicutaneous immunotherapy receiving Breakthrough Therapy designation from the FDA. This designation was created by the FDA to expedite the development and review of drugs and biological products that target serious or life-threatening conditions.
Third, a variety of other approaches for the treatment of peanut and other food allergies are under active study, with the potential that new and better treatments will emerge over time. This is truly an exciting time in the world of food allergy and as this field evolves, we must continually reassess treatment options and approaches to provide the best and safest care for our patients, including enhanced educational opportunities and the development of appropriate guidelines.
Optimizing Prevention of Food Allergy
In this realm, it is crucial to make the most of the National Institute of Allergy and Infectious Diseases (NIAID) Addendum Guidelines for the Prevention of Peanut Allergy in the United States. The addendum guidelines came about after the Learning Early About Peanut (LEAP) study results were presented at the 2015 AAAAI Annual Meeting and simultaneously published in The New England Journal of Medicine.
In order to make the most of the NIAID guidelines, we need two things: education, especially for pediatricians, as well as ready access to testing and oral food challenges. Also important is the dissemination of results regarding additional studies on peanut and other foods, more general (non-food specific) approaches to prevention, and development of new guidelines as indicated by evidence. Finally, we are grateful to the NIAID for their interest in developing enhanced research opportunities in the prevention of allergic diseases, including food allergy.
Making an Accurate Diagnosis
The misdiagnosis of food allergy is rampant and more testing, or even any testing, is not always best given the limitations in our testing methods. At the end of the day, it is our responsibility to fix this problem. This will be an uphill battle that can only be won with significant educational initiatives focused both on allergists and primary care physicians. We also need to lead the way in the provision of care that is unique to our specialty, including oral food challenges.
Best Practices for Prevention and Treatment of Anaphylaxis
Food allergy can be a very dangerous disease and is the most common cause of anaphylaxis in outpatient settings. Fatal reactions occur, but they should be largely preventable with appropriate treatment. With better patient education and increasing awareness of food allergy among the general public, my hope is that we will see fewer reactions over time. However, when prevention fails, we need to ensure that all patients receive optimal treatment of reactions in all settings.
Once again, I believe the timing is perfect to have the spotlight on optimal care for the food allergic patient. I look forward to working with you over the coming year to help address these areas of need for the benefit of the patients we serve.
Sincerely,

Robert A. Wood, MD, FAAAAI
AAAAI President
Last updated: April 26, 2018