From the President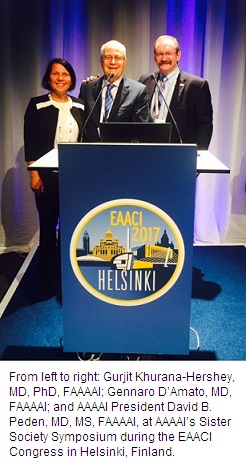 Dear Colleagues,
We are already gearing up for the 2018 AAAAI/WAO Joint Congress, March 2-5 in Orlando. While abstracts are being accepted as usual, case reports are also being accepted for a special, one-time Case Report Poster Session. This forum will provide an opportunity to share novel or challenging patient care experiences with other attendees. Abstracts and case reports must be submitted at our official submission site by August 31 at 11:59 pm Central time.
I am eagerly anticipating the educational programming at the Joint Congress, 20% of which will relate to our theme: Global Environmental Change and Respiratory Health. Annual Meeting Program Committee Chair Mary Beth Fasano, MD, FAAAAI, recently shared her thoughts on the theme, which you can read here.
I've stated in the past that I believe we are at our best when we are objective conveyors of the science, and this theme is an excellent example of an area where we can do that. It also makes sense in the context of having a Joint Congress with the World Allergy Organization (WAO), since there is even greater emphasis on global perspective in terms of the educational content for this meeting. I also have a personal connection involved. The theme topic is quite frankly what I do at my institution, thus why I devoted one of my presidential initiatives to it.
It's worth mentioning that we are not the only organization to focus on environmental and climate impacts on allergic and immunologic disease. It received attention at the European Academy of Allergy and Clinical Immunology (EAACI) Congress this summer in Helsinki, which I attended on behalf of the AAAAI. Among the related sessions was the AAAAI's Sister Society Symposium. Joining me for this session were Gennaro D'Amato, MD, FAAAAI, who spoke about global climate change, pollution and environmental allergies, and Gurjit Khurana-Hershey, MD, PhD, FAAAAI, who addressed the epigenetic impact of pollutants in allergy. I served as moderator and also closed the session by discussing possible interventions to reduce the impact of pollutants on allergic disease. A photo of the three of us behind the podium in Helsinki appears above. My sincere thanks go to Gennaro and Gurjit for their excellent contributions and willingness to participate in this session.
In case you missed it, I would also like to point out that the theme of the July issue of The Journal of Allergy and Clinical Immunology (JACI) is the exposome and there are some excellent articles including "Environmental determinants of allergy and asthma in early life," "The environment, epigenome, and asthma," and "An exposome perspective: Early-life events and immune development in a changing world." You can browse the table of contents for the issue here.
We've already provided a sneak peek of what will be covered in our slate of plenaries for the 2018 AAAAI/WAO Joint Congress, but stay tuned for early fall when the Program & Planner will be available at annualmeeting.aaaai.org. The online Program & Planner will allow you to browse the entire educational program. It also gives you the ability to search by speakers, topics and more so you can begin to plot out your onsite schedule.
In the meantime, you can read the announcement about Linda Birnbaum, PhD, Director of the National Institute of Environmental Health Sciences, who will deliver the keynote in Orlando. You will not want to miss her talk.
Sincerely,

David B. Peden, MD, MS, FAAAAI
AAAAI President
Last updated: August 8, 2017