From the President
Dear Colleagues,

Back in 2008, the AAAAI Board of Directors recognized that some of our talented leaders decline to serve as Secretary-Treasurer (a position which ascends to AAAAI President) because of the time commitment involved. One of the ways the Board chose to lessen the time commitment of the AAAAI President and allow that person to better serve our members and the specialty was to create a part-time paid position of Executive Vice President. This individual assists the President and Executive Committee in fulfilling their obligations to the AAAAI.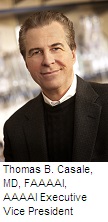 Thomas B. Casale, MD, FAAAAI, has served as AAAAI Executive Vice President since the role was created in 2008. He officially took office in May of that year and has done a tremendous job in the almost 10 years that he has held the position.
Executive Vice President is not an easy job as you might imagine. Among other responsibilities, you need to understand the structure, operations and history of the AAAAI, provide rapid response to issues and communications, and travel to all major AAAAI and related organization meetings. Tom has been an exceptional example of how to fulfill these duties while supporting—but not overshadowing—each AAAAI President. The AAAAI Presidents who have served while Tom has been Executive Vice President have relied on his counsel, and considering Tom served as AAAAI President himself he was able to draw from experience.
If you attended the Business Meeting at the 2017 Annual Meeting in Atlanta you were among the first members to hear the news, but Tom has informed the AAAAI that he will be stepping down after the 2018 AAAAI/WAO Joint Congress in Orlando. It is hard to imagine someone else in the Executive Vice President role since Tom has occupied it since its inception, but we are already in the process of finding a replacement.
Past President Robert F. Lemanske, Jr., MD, FAAAAI, is chairing the task force that has been formed to search for a successor. Invitations to apply were sent in April to past AAAAI Presidents and Board members since being cognizant of our organization's structure and operations is so vital. Rob and the rest of the task force, which is made up of past Presidents and current Board members, have reviewed the applications we received. The next step will be holding in-person interviews in August. Once the interviews have taken place, the task force will provide its final recommendation for approval at the November Board meeting.
The new Executive Vice President will likely start in January 2018 or shortly after, working alongside Tom until he officially steps down after the Joint Congress in Orlando. You can expect an announcement in late 2017 regarding who has been selected as our new Executive Vice President. In the meantime, please join me in expressing the utmost appreciation to Tom for everything he has done for the AAAAI and our specialty in the near decade he has served as Executive Vice President. The next person to hold the position will have very large shoes to fill, but I am confident he or she can rise to the challenge.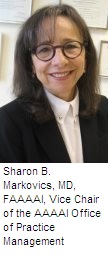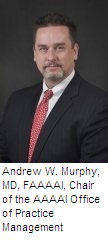 Since we are discussing leadership transitions, I also want to recognize Andrew W. Murphy, MD, FAAAAI, and Sharon B. Markovics, MD, FAAAAI. Drew and Sharon are the new Chair and Vice Chair of the AAAAI Office of Practice Management, respectively. Past President Linda Cox, MD, FAAAAI, previously served as Chair and is owed immense thanks for her time and efforts leading such an important group.
The Office of Practice Management was formed during the presidency of James T. Li, MD, PhD, FAAAAI, to serve as a dedicated resource for AAAAI members on practice management issues. A number of the AAAAI's most valuable benefits, including our ask the coding expert service at coding@aaaai.org and Practice Matters newsletter (Drew also serves as its editor), fall within the realm of the Office of Practice Management. Read more about what the Office of Practice Management does here.
I am eager to see how Drew and Sharon use their experience as clinicians to continue carrying the Office of Practice Management forward by empowering and supporting their fellow allergist/immunologists in practice.
Sincerely,

David B. Peden, MD, MS, FAAAAI
AAAAI President
Last updated: June 13, 2017