Have a $240,000 Idea?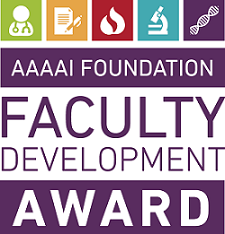 The AAAAI Foundation is pleased to announce the submission period will soon be open for the 2018 Faculty Development Award. This award, which provides $240,000 in funding over a three-year period, is intended to support a junior faculty member in the specialty of allergy, asthma and immunology. The award term is July 1, 2018 to June 30, 2021.
The application process has two steps to streamline the process for applicants and the review committee. The first step is a letter of intent. This two-page document can be submitted from June 30 to September 5. Results will be announced the week of October 10. At that time, 10 applicants will be invited to participate in the second step by completing full applications, due November 15.
| | |
| --- | --- |
| June 30, 2017 | Letter of Intent Period Opens |
| September 5, 2017 | Deadline for Letters of Intent to be submitted |
| October 10, 2017 | Invitation from Grant Review Committee for Full Applications |
| November 15, 2017 | Full Application Deadline |
| January 2018 | Grantee Notification |
Applications will be available online by visiting the AAAAI Grants and Awards page. See the eligibility section of the application for complete details. For further information, contact Jerome Schultz at jschultz@aaaai.org.