From the President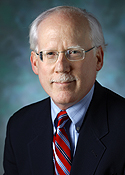 Dear Colleagues,
A new AAAAI feature that debuted to great success at the recent AAAAI/WAO Joint Congress was the AAAAI Practice Resources Corner. This area near the Registration Desk allowed members to learn about the wide array of practice management resources and programs the AAAAI offers, including the AAAAI Registry and the Practice Management Workshop, which are timely topics for this month's newsletter.
We are very excited to announce that on Monday, the new AAAAI Registry officially opened for data uploading. We now invite you to be a part of AAAAI efforts to help our members deliver quality care, drive clinical research, advance advocacy and succeed with Merit-based Incentive Payment System (MIPS) reporting. This—the broader potential of the new AAAAI Registry—is what I want to emphasize.
The previous version of the AAAAI Registry was launched to provide a quality clinical data registry (QCDR) to enable our members to participate in quality reporting on specialty-specific measures. Those who used it for that purpose were also able to satisfy the quality improvement requirement (Part IV) of the American Board of Allergy and Immunology's Maintenance of Certification program by using their performance data to complete a practice improvement module and earn 20 AMA PRA Category 1 CME Credits™.
While we were pleased to offer these capabilities, the new version of the AAAAI Registry is a comprehensive and multi-purpose solution that allows you to engage with your outcomes data and specialty-specific performance measures in ways that were not previously possible. It will still allow those who need to report for MIPS the ability to do so (and if you have not already, enter your National Provider Identifier (NPI) here to check your MIPS eligibility in 2018), but it is far more than MIPS.
Our vision for the new AAAAI Registry is to bring together four important objectives—quality improvement, clinical research, patient-reported outcomes and regulatory reporting—all onto one platform powered by ArborMetrix, AAAAI's technology and analytics partner. An especially timely and relevant example of its broader potential is what we have planned next: to use it to collect compounding data in order to demonstrate the efficacy, safety and positive outcomes of provider preparation and administration of allergen immunotherapy.
For an introduction to the AAAAI Registry, watch the recording or view the slides from our recent webinar with David M. Lang, MD, FAAAAI, AAAAI President-Elect, and Spencer Heaton, MD, MBA, Chief Medical Officer for ArborMetrix.
Meanwhile the 2018 AAAAI Practice Management Workshop, scheduled for July 20-22 in Salt Lake City, Utah, is quickly approaching. Programmed by allergists for allergists and their staff, the Practice Management Workshop is amongst our most popular events. Why? It is one of the best investments you can make in your practice because it thoroughly covers an often overlooked topic: the business side of medicine.
To keep you updated on the most current trends in the practice of allergy, the Practice Management Committee has developed six sessions for the 2018 AAAAI Practice Management Workshop that have never been presented. You can add value to your practice with the following new courses:
A Step By Step Guide to Surviving Practice Financial Audits
Physician Wellness: Avoiding Burnout, Finding Balance
Beyond Correct Coding: Getting Paid For What You Do and Avoiding Billing Blunders
Demonstrating the Value of the Allergist in Academics and Private Practice
Expanding the Scope of Practice
Telehealth in Allergy Practice
The spring issue of Impact will arrive in your mailbox later this month, and it includes the story of Mike Tankersley, MD, MBA, FAAAAI, who turned to the Practice Management Workshop for help as he and his practice manager and wife, Jessie Tankersley, BS, began the journey of opening their own allergy practice.
While I encourage you to read their story once your copy of Impact arrives, I want to leave you with a quote from Mike. He said: "I would encourage every allergist to look at their five year business plan and put the AAAAI Practice Management Workshop on their calendar. There are things in the courses that every allergist can benefit from. I've never talked to an allergist who went to a Practice Management Workshop and heard them say it was not worth their time to go."
If you have yet to attend a Practice Management Workshop, now is the time to see what Mike is talking about for yourself. View the entire workshop program and session descriptions and register to attend.
Sincerely,

Robert A. Wood, MD, FAAAAI
AAAAI President
Last updated: May 10, 2018