Help Your RSL Win Free CME Certification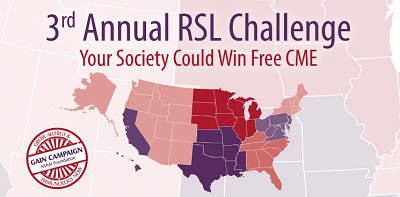 You can help your local society win free CME certification with the 2018 Regional, State and Local Societies (RSL) Challenge. It's the AAAAI Foundation's friendly fundraising competition between local societies where the region that donates the most to the Foundation in 2018 will receive free certification for a 2019 CME course.

With your help, the challenge raised over $82,000 for research last year with the winner, Region 3 Southeast, raising over $29,000. We know that our third annual challenge can be an even bigger success than last year's. Your involvement can make that possible.
How to Compete
Each gift made in 2018 to the AAAAI Foundation can count toward your RSL's tally in the RSL Challenge. Just be sure your gift is designated to a specific region at the time of donation. The RSL Board of Governors reviews the donation tallies at the end of the year. The winning region's governor chooses the specific society to earn the CME certification in March of 2019.
To learn how to get your colleagues involved, you can access the RSL Challenge Toolkit here or download materials from the RSL Challenge Dropbox here.
Donate today to support your region and allergy/immunology dedicated research.

Who's in the Lead?
Region rankings are updated at the beginning of each month and are available on the RSL Challenge page on the Foundation's website. Click here to check out region rankings from April.