Meet the New AAAAI Website and Social Media Medical Editors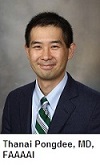 After almost nine years as the AAAAI Website and Social Media Medical Editor, Thanai Pongdee, MD, FAAAAI, will be ending his term on December 31, 2017. The AAAAI is extremely grateful for his leadership and expertise in moving our technology and social media strategies forward during his years of service.
Starting January 1, Andrew D. Moore, MD, FAAAAI, will take over as the Website Medical Editor and David R. Stukus, MD, FAAAAI, will take over as the Social Media Medical Editor.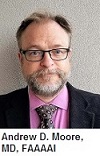 Moore obtained his medical degree from McGill University in Montreal, Canada. He currently works as an allergist/immunologist for Ear, Nose, and Throat and Allergy/Asthma Care, a member of Johns Hopkins Regional Physicians in the Washington, DC-Baltimore corridor.
In addition to his clinical responsibilities, he has had the opportunity to work as a physician editor for several prominent medical websites and is certified in Full Stack Web Development. He redeveloped and maintains the website for the Association of Allergists and Immunologists of Québec.

Stukus practices at Nationwide Children's Hospital where he serves as Director of the Complex Asthma Clinic, Director of Quality Improvement for the Division of Allergy and Immunology, and Co-Chair for the annual pediatric asthma conference.
He is active on social media through his Twitter account @AllergyKidsDoc, where he engages with the general public and colleagues as he disseminates evidence-based information through his popular "Myth Busting." He has created curriculum at his institution to train medical students and residents on social media best practices and often trains physicians on the use of social media at conferences.
Look for the next issue of Impact, the AAAAI's quarterly member magazine, for more information on the new editors.