Support Young A/I Researchers through the 2017 GAIN Campaign
We need your help to support young allergy/immunology (A/I) researchers as they explore life-changing therapies that can make a real difference for our patients. Please make a donation today to our 2017 Grow Allergy & Immunology Now (GAIN) Campaign to support more research in 2018.
We hope to announce three Faculty Development Awards recipients during the 2018 Foundation Benefit, donate today to make it a reality.
AAAAI Foundation Special Events Hosted During Joint Congress
Support expanded A/I research at the AAAAI Foundation's Joint Congress special events. The AAAAI Foundation Benefit and 5K Run/Walk are the premier events to attend while you're in Orlando.
Celebrate A/I Young Investigators at the Foundation Benefit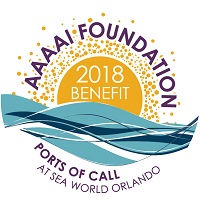 Make plans to join us at the Foundation Benefit on March 3 from 7:00 to 10:00 pm at the Ports of Call, SeaWorld Orlando.
The Benefit features the announcement of the 2018 Faculty Development Award recipients, delicious food, beverages and entertainment. Dinner will feature a plated duet entree. There will be no nuts, pork or shellfish on the menu.
Round trip transportation will be provided from the Hyatt Regency Orlando. Cocktail attire is appropriate. Find more information and register here.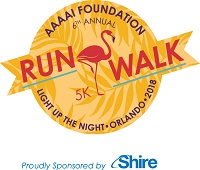 Run or Walk to Support A/I Research
Mark your calendar for March 4 for the AAAAI Foundation's 5K Run/Walk.
This is your opportunity to "run for research" and raise awareness for the A/I specialty. The starting line will be at the South Concourse Doors, Orange County Convention Center. The group warm-up begins at 4:30 pm and the race kicks off at 5:00 pm.
The registration fee includes access to the race, a group warm-up activity, t-shirt, glow swag and race medal. Find more information and register here.
Other Ways to Support
If you can't make it to any of the Foundation events, you can still show your support at the Joint Congress with the Friend of the President and NAIA Support Ribbons. They are available for purchase when registering for the Joint Congress and onsite at the Joint Congress.