AAAAI e-news now: June 2018
---
In the News
AAAAI Featured in USA Today Insert on Food Allergies
AAAAI President, Robert A. Wood, MD, FAAAAI, wrote the foreword for a recent USA Today insert on food allergies. The article, "Despite New Treatment Developments, Food Allergies Still Pose Dangerous Threats," overviews the growing prevalence of food allergies, the dangers of food-induced anaphylaxis and explains that, while this is an exciting time with food allergy treatments on the horizon, the key will be to identify the best treatment for each patient without losing sight of the dangers of anaphylaxis. Click here to read the full article.
---
News Briefs
Be Aware of the Fluticasone Propionate Nasal Spray Recall and Shortage of Sterile Water for Injection
Apotex Corp. Recalls Fluticasone Propionate Nasal Sprays over Glass Particle Concerns
Apotex Corp. is voluntarily recalling one lot of Fluticasone Propionate Nasal Spray, USP, 50 mcg per spray, 120 Metered Sprays, to the consumer level. The nasal spray has been found to contain small glass particles which could block the actuator and impact the functionality of the pump.
There is a potential for patients to be exposed to the glass particles and mechanical irritation cannot be ruled out. Local trauma to the nasal mucosa might occur with use of the defective product. To date, Apotex Corp. has not received any reports of adverse events related to recall.
Visit the Food and Drug Administration's (FDA) website for further information on how to identify the affected lot.
Genentech Addresses the Shortage of Sterile Water for Injection
The leadership of the AAAAI and ACAAI have continued to monitor the shortage of Sterile Water for Injection (SWFI). Recently, Genentech sent a communication explaining they will begin importing 5 mL ampules of SWFI from Germany.
They are offering a limited supply of these imported SWFI ampules for free, which you can order by calling Genentech customer service at 1-800-551-2231.
Typically, SWFI in the U.S. comes in vials. The dosage and administration instructions provided in the FDA package inserts of the drug being reconstituted should be followed when using the ampules. Additional tips are also included in the letter from Genentech.
Any medical questions regarding the use of the 5 mL SWFI ampules should be addressed to Genentech medical communications at 1-800-821-8590. Complaints about the imported 5 mL ampules should be passed along to Genentech product quality at 1-800-334-0290. Adverse events may be reported to Genentech at 1-888-835-2555 or the FDA's MedWatch Adverse Event Reporting System.
Please refer to the FDA Drug Shortage website for additional information on the sterile water shortage.
You Can Now View Recordings from the 2018 AAAAI/WAO Joint Congress

The Virtual Joint Congress recordings are now available on the AAAAI's Continuing Education Center.
With the Virtual Joint Congress, you can view dozens of sessions from the 2018 AAAAI/WAO Joint Congress on demand. The recordings are offered in two formats. You can either stream the sessions online or download the sessions in MP4 format to watch them on the go.
The recordings include a variety of courses and can serve as a resource for training fellows and practice staff. Click here to purchase the recordings today.
Get Practice Management Tips while Networking with Colleagues from across the Country
Since 2004, the AAAAI Practice Management Workshop has been a resource for allergist/immunologists looking to start up or evolve their practices.
Mike Tankersley, MD, MBA, FAAAAI, attended his first workshop shortly before establishing his own allergy practice, The Tankersley Clinic, PLLC.
"I would encourage every allergist to look at their five year business plan and put the AAAAI Practice Management Workshop on their calendar," said Tankersley. "There are things in the courses that every allergist can benefit from. I've never talked to an allergist who went to a Practice Management Workshop and heard them say it was not worth their time to go."
You can also take away practical tips, network with colleagues from around the country and enjoy access to top professional management consultants and other faculty at the 2018 AAAAI Practice Management Workshop, July 20-22 in Salt Lake City, Utah.
You can view the entire workshop program and session descriptions here or register for the Practice Management Workshop here. Online registration for the Practice Management Workshop closes July 10, but onsite registration will be available.
All sessions will be held at the Little America Hotel. The discounted room rate of $164 single/double for workshop attendees is available until June 29.
Want to Dive Deeper into Your Research?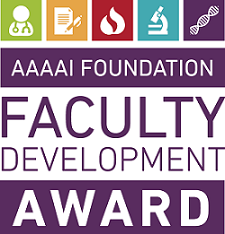 The AAAAI Foundation is pleased to announce the opening of the submission period for the 2019 Faculty Development Award on July 5. This award, which provides $240,000 in funding over a three-year period, is dedicated to support the development of junior faculty to further their careers in allergy/immunology. These awards help generate leaders and independent investigators by funding excellent research that will lead to the prevention and treatment of asthma and allergic and immunologic disease.
The award term is July 1, 2019, to June 30, 2022.
The timeline for the 2-step application process and details will be available online starting July 5, 2018, by visiting the AAAAI Grants and Awards page. For further information, contact Sabine Gifford at sgifford@aaaai.org.
Support the 2018 GAIN Campaign
Every time you donate to the GAIN Campaign you're supporting more A/I dedicated research in 2019. Donate today and fund a third Faculty Development Award in 2019.
We're proud of the scientists funded by members like you. Click here to view our 2018 Faculty Development awardees and our currently funded awardees.
AAAAI's Hands-on Training Stations Recognized in ACCME Newsletter
The Accreditation Council for Continuing Medical Education (ACCME) recently recognized the Training Stations presented at the 2018 AAAAI/WAO Congress in the "CME in Action" section of the ACCME Report as an example of diverse, flexible and quality CME.
View This Month's Featured Careers
New employment opportunities within the specialty are available at the AAAAI Career Connections Center. Job seekers can upload their resumes, set up customized alerts for the types of jobs they are seeking and much more.
Top employers continue to add positions to the AAAAI Career Connections Center on a regular basis. View June's featured professional opportunities:
Lead Allergist - Confidential - California
Allergist - Center for Allergy and Asthma of Georgia - Atlanta, Georgia
Allergist/Immunologist - Allergy & Asthma Specialists - Blue Bell, Pennsylvania
Allergist/Immunologist - BreatheAmerica - Multiple Locations
Allergist/Immunologist - Florida Center for Allergy and Asthma Care - Miami, Florida
---
Web Tips
What is Drug Rash with Eosinophilia and Systemic Symptoms (DRESS)?
Help your patients understand the diagnosis and treatment for drug rash with eosinophilia and systemic symptoms (DRESS) with a new article in the Conditions & Treatments Library. The article is available in English and Spanish.
New Patient Education Videos Available on the AAAAI Website
New patient videos have been added to the Conditions & Treatments section of the AAAAI website, including select videos in English and Spanish. Your patients can listen to experts present a variety of new topics, including indoor allergies, peanut allergy prevention, oral food challenges and more.
---
From the President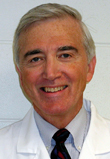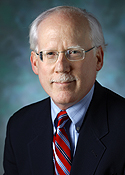 Dear Colleagues,
My presidential duties include traveling to other allergy organizations' meetings to represent the AAAAI. One such trip was at the end of May for the 2018 European Academy of Allergy and Clinical Immunology (EAACI) Congress in Munich, Germany.
Our work with the American College of Allergy, Asthma & Immunology is often in the spotlight—especially considering our organizations send out relatively frequent joint messages—but it is important to know that we also collaborate with our European colleagues.
As part of the scientific program for the EAACI Congress, I was asked to plan the AAAAI's Sister Society Symposium titled "Food Allergy: The Best Papers this Year in JACI, CEA, and Allergy." I was responsible for moderating as well as presenting important food allergy papers published in The Journal of Allergy and Clinical Immunology (JACI). I was joined by Cezmi A. Akdis, MD, FAAAAI, who highlighted the best food allergy papers from EAACI's journal, Allergy, and Graham Roberts, DM, who highlighted the best food allergy papers from Clinical and Experimental Allergy (CEA). CEA is the official journal of the British Society for Allergy & Clinical Immunology.
While in Munich, I had the opportunity to participate in two meetings with EAACI leadership. I presented to the EAACI Executive Committee, where I described current AAAAI activities and spoke about potential areas of collaboration between AAAAI and EAACI. In addition, there was a joint leadership meeting where we discussed topics such as the recruitment of medical students to the allergy/immunology (A/I) specialty, development of guidelines and support of A/I research in the United States and Europe. As you might imagine, we also have joint leadership meetings with EAACI at each AAAAI Annual Meeting. This is a natural way for our organizations to stay in touch on important issues that are facing the specialty.
Another source of annual collaboration is our PRACTALL (Practical Allergy) meetings. Plans are already underway for our next PRACTALL, which AAAAI will host in October in Washington, DC. PRACTALL is an initiative between AAAAI and EAACI that aims to harmonize European and American approaches to best clinical practices and science in A/I. Each organization invites four participants, based on their subject-matter expertise, to attend the PRACTALL meeting where we discuss our diverse perspectives on these issues and recommend action. The end product is a PRACTALL consensus report that is published in our organizations' respective journals.
I am pleased that the topic for this fall's PRACTALL is Immune Response Modifiers for the Treatment of Food Allergy. This is a hot topic in both research and clinical practice and I am delighted that Anna H. Nowak-Wegrzyn, MD, PhD, FAAAAI, Wayne G. Shreffler, MD, PhD, FAAAAI, and Wesley Burks, MD, FAAAAI, will join me in representing the AAAAI at this meeting. We are looking forward to an active discussion with our EAACI colleagues, leading to a state of the art publication in the JACI.
I would like to express my gratitude and recognize EAACI President Ioana O. Agache, MD, PhD, for the successful EAACI Congress I experienced in Munich and for joining me in serving as Co-Chair for the upcoming PRACTALL. The AAAAI looks forward to continuing our collaborative efforts with EAACI for the good of our specialty and the patients we serve around the world.

Sincerely,
Robert A. Wood, MD, FAAAAI
AAAAI President
---