AAAAI e-news now: October 2017
---
In the News
JACI Article Finds Early-life Exposure to Pest and Pet Allergens May Reduce Asthma in Inner-city Children
The AAAAI issued a press release on The Journal of Allergy and Clinical Immunology article "Early-life home environment and the risk of asthma among inner-city children." Researchers found evidence that early-life exposure to cockroach, mouse and cat allergens decreased the rate of asthma in inner-city children.
The article suggested that in the inner-city setting, indoor pests or pets and certain bacteria associated with them may provide biologic signals that promote normal lung and immunologic development. Interventions to reduce prenatal smoking and maternal stress and depression during pregnancy and infancy may hold more promise for asthma prevention.
See coverage from Boston Magazine, the International Business Times, and U.S. News & World Report or view the full article here.
---
News Briefs
Latest Update on Venom Extract Shortage
A venom extract shortage was reported in late 2016 due to ALK-Abelló A/S experiencing a manufacturing delay in regards to its venom products. In response the AAAAI and ACAAI put together a task force, the result of which was a report outlining recommendations for our members which could lead to a reduction in consumption of the product.
We have been made aware that ALK now has a stable supply of inventory for the following products:
Honey Bee (6 x 1ml) Single Dose Vials
Wasp (6 x 1ml) Single Dose Vials
Mixed Vespid (6 x 1ml) Single Dose Vials
ALK stated that they made the decision to only manufacture single dose vials in order to maximize production capabilities and supply. Their goal is to have all species available as soon as possible, but an exact timeframe for that is unknown at the moment.
If you have questions or would like additional information, contact ALK's Sales Support Department at (800) 325-7354 or customerservices@alk.net.
Flu Vaccine Still Recommended for Pregnant Women with Asthma
Last month, Vaccine published a Centers for Disease Control (CDC)-funded study that found women who were vaccinated early in pregnancy with a flu vaccine containing the pandemic H1N1 component and who also had been vaccinated the prior season with a H1N1-containing flu vaccine had an increased risk of spontaneous abortion (miscarriage) in the 28 days after vaccination.
While this study does not quantify the risk of miscarriage, and several earlier studies found no link between flu vaccination and miscarriage, your pregnant patients may have questions about the safety of flu vaccine. Members of the VAMPSS Investigative Team authored a commentary that was published concurrently with this study, and our earlier publications were among those that found no link between flu vaccination and miscarriage. The CDC still strongly recommends influenza vaccination for all pregnant women.
What Do You Want to Ask the Future AAAAI President?
Voting will soon open for the 2018 AAAAI Board of Directors election. If you could ask the future AAAAI President one question, what would it be?
When voting for the Secretary-Treasurer, you are deciding who will be the future AAAAI President as the person in that position will ascend to the presidency.
Given the importance of this top-level leadership position, the Board of Directors continues to give members the opportunity to ask the candidates pertinent strategic and philosophical questions.
This year's candidates for Secretary-Treasurer are Mary Beth Fasano, MD, FAAAAI, and Aidan A. Long, MD, FAAAAI.
If you have a question you want these two candidates to consider, send it to TCasale@aaaai.org no later than October 20.
The submitted questions will be grouped together and three or four questions that best represent those submitted will be presented to the candidates. Candidates' responses will be included with the online ballot and in the fall issue of AAAAI Impact, your quarterly member magazine.
Presenting the AAAAI Hypersensitivity Summer School
The AAAAI is developing an intensive, four-day program for emerging physicians and scientists who are committed to an academic career in allergy/immunology to advance their knowledge in hypersensitivity research and career development.
The 30 invited participants will be asked to engage with faculty in both academic and social activities. This program offers an invaluable opportunity for career development. Faculty will lead small group break-out sessions to discuss the essential aspects of a career in research and each participant will be asked to present on their own research. All participants will receive a travel grant to assist with airfare, hotel and meal expenses.
The 2018 AAAAI Hypersensitivity Summer School application will open November 1, 2017, and close January 31, 2018. Qualified members will receive an email prompting them to apply on November 1. Acceptance to the 2018 AAAAI Hypersensitivity Summer School is highly competitive and invitations will be extended following an application review by faculty.
Check your eligibility and view other application requirements.
Joint Congress Registration is Open to All Members. Do You Have Breaking Research to Submit?
Registration is now open to all AAAAI members. Visit the Joint Congress website to register or view sessions on the Online Program. We want to see you at the premier event in allergy/immunology.
Also note that there is still a chance to present your research at the Joint Congress. The late breaking abstract submission for the 2018 AAAAI/WAO Joint Congress is scheduled to open on October 30.
Acceptance of late breaking abstracts provides members with an opportunity to submit important research advances. Late breaking abstracts must be of high quality, represent an important research advance and present information that was not available at the time of regular abstract submission.
Abstracts can be submitted by visiting the Joint Congress website. All late breaking abstracts must be submitted by November 13. We look forward to seeing you in Orlando.
Sign Up for Webinars on MIPS and Quality Improvement
Need extra resources to navigate the Merit-based Incentive Payment System (MIPS) or tools to implement improvements in your practice? The American Medical Association (AMA) is offering two webinars this fall addressing these topics.
Thriving Under MIPS – Where to start? Breaking down the complexity of MIPS
Wednesday, October 18
1:00-2:00 pm ET
With many feeling overwhelmed by the complexity of the Quality Payment Program (QPP), physicians struggle to answer one key question: "Where do I start?" To help, the AMA has released a new customizable resource, the MIPS Action Plan, which breaks down the complexity of the MIPS track of QPP into specific actionable steps. In this one-hour webinar, attendees will learn how to use this tool to create and/or validate their strategies for MIPS implementation in 2017. Register here.
Quality Improvement Webinar – Root-cause Analysis: Digging Deep to Improve
Wednesday, November 29
1:00-2:00 pm ET
Without an understanding of what is really driving poor quality or performance, it is difficult to improve. Root-cause analysis is a critical tool in the quality improvement tool box that allows professionals to understand what's at the heart of the problem and then develop improvement ideas that can make a difference. How can you improve if you do not understand the challenge and the contributing factors?
In this one-hour webinar, you will learn three common forms of root-cause analysis, discuss the advantages of applying these methods to different circumstances and environments, and how root-cause analysis is used as the basis for creating and implementing ideas that lead to robust improvement. Register here.
Support Young A/I Researchers through the 2017 GAIN Campaign
We need your help to support young allergy/immunology (A/I) researchers as they explore life-changing therapies that can make a real difference for our patients. Please make a donation today to our 2017 Grow Allergy & Immunology Now (GAIN) Campaign to support more research in 2018.
We hope to announce three Faculty Development Awards recipients during the 2018 Foundation Benefit, donate today to make it a reality.
AAAAI Foundation Special Events Hosted During Joint Congress
Support expanded A/I research at the AAAAI Foundation's Joint Congress special events. The AAAAI Foundation Benefit and 5K Run/Walk are the premier events to attend while you're in Orlando.
Celebrate A/I Young Investigators at the Foundation Benefit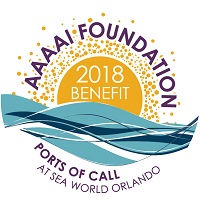 Make plans to join us at the Foundation Benefit on March 3 from 7:00 to 10:00 pm at the Ports of Call, SeaWorld Orlando.
The Benefit features the announcement of the 2018 Faculty Development Award recipients, delicious food, beverages and entertainment. Dinner will feature a plated duet entree. There will be no nuts, pork or shellfish on the menu.
Round trip transportation will be provided from the Hyatt Regency Orlando. Cocktail attire is appropriate. Find more information and register here.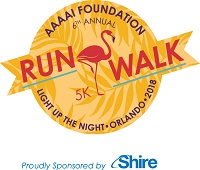 Run or Walk to Support A/I Research
Mark your calendar for March 4 for the AAAAI Foundation's 5K Run/Walk.
This is your opportunity to "run for research" and raise awareness for the A/I specialty. The starting line will be at the South Concourse Doors, Orange County Convention Center. The group warm-up begins at 4:30 pm and the race kicks off at 5:00 pm.
The registration fee includes access to the race, a group warm-up activity, t-shirt, glow swag and race medal. Find more information and register here.
Other Ways to Support
If you can't make it to any of the Foundation events, you can still show your support at the Joint Congress with the Friend of the President and NAIA Support Ribbons. They are available for purchase when registering for the Joint Congress and onsite at the Joint Congress.
Renew Your AAAAI Membership Today to Continue Enjoying Your Member Benefits
Thank you for being a part of the AAAAI. We deeply appreciate what your membership brings to the organization. As we think ahead to the coming year, take a look at the wealth of benefits you may not be taking full advantage of. All of these are covered in your 2018 dues.
When you think about it, the pros definitely outweigh the cons.
Pros*:
FREE Subscription to The Journal of Allergy and Clinical Immunology (JACI)
FREE subscription to the JACI: In Practice
FREE access to a coding expert and resources
Discounted meeting registration
Expanded legislative and regulatory advocacy efforts
Low cost/no cost continuing education opportunities
Exclusive access to the AAAAI website
Relevant information from AAAAI monthly & quarterly publications
*Benefits may vary between membership types.
Renewing online is simple:
Pay today at aaaai.org/renew. If you are seeking reimbursement or prefer to pay by check, you can print the online dues invoice.
Have an assistant or office manager pay your dues through the administrative renewal system at aaaai.org/adminrenew. All they need is your email address. Note: Only standard AAAAI dues may be paid through this portal using a credit card. No donations and no printed invoicing will be available.
If you need assistance with your login information, contact Membership Services at (414) 272-6071 or email info@aaaai.org. You can also contact us if you would like to pay your dues over the phone.
Thank you, once again, for your continued support through membership.
Attention: Division Directors, Division Chiefs or Section Heads
The occupation field in the membership database has been updated to include the aforementioned titles. We ask that when paying your dues, you add these fields to your occupation description. With a current listing of allergy/immunology (A/I) division leadership, the AAAAI can better market funding and research opportunities.
In addition, members with these occupations are encouraged to join the Division Directors Committee. This newly active committee hosts an annual committee meeting, a mentorship program for new A/I division leaders, and Basecamp access with items pertaining to issues related to A/I divisions.
For information about the Division Directors Committee, contact Jerome Schultz at jschultz@aaaai.org.
FITs: Submit Your Case Report for Inclusion at the Joint Congress
First year fellows-in-training (FITs) can now submit case reports for possible inclusion in two case presentation workshops at the 2018 AAAAI/WAO Joint Congress. This is a great resume-building experience for young allergist/immunologists who want to showcase their work and network with others in the specialty.
FITs who began allergy/immunology (A/I) training on or after July 1, 2017, are strongly encouraged to visit the AAAAI Continuing Education Center to submit their case report before November 1 at 11:59 pm CT.
The case should include a unique observation or a "teachable moment" that would be of value to others in the A/I community.
Guidelines and details can be found here. Questions should be directed to cme@aaaai.org.
Application Period for the ALA/AAAAI Allergic Respiratory Diseases Award Now Open
The AAAAI is proud to offer several research grant opportunities to eligible members. Review the following awards to see if they can help you advance your research.
Now Open: 2018 ALA/AAAAI Allergic Respiratory Diseases Award
The 2017 American Lung Association (ALA)/AAAAI Allergic Respiratory Diseases Award provides for $75,000 per year during the award term from July 1, 2018, to June 30, 2020.
At the time of application, the applicant must hold a doctoral degree, have a primary faculty appointment in an allergy/immunology division/section of an academic institution, be undertaking a project related to allergic respiratory disease, and have completed a training fellowship.
A letter of intent is not required for the Allergic Respiratory Diseases Award. All applications must be submitted electronically through proposalCENTRAL. The deadline for submission is December 21, 2017.
For complete application information, access the ALA's website. If you have any additional questions, contact Jerome Schulz at jschultz@aaaai.org.
2018 Hope APFED/AAAAI Pilot Grant Award
The 2018 Hope APFED/AAAAI Pilot Grant Award was established to allow investigators from a variety of disciplines to initiate new projects relevant to eosinophilic disorders, excluding asthma, rhinitis and eczema. Successful applications will focus on the development of new ideas which are likely to lead to future external funding. The 2018 Hope APFED/AAAAI Pilot Grant Award is a collaborative award program between the AAAAI and the American Partnership for Eosinophilic Disorders (APFED).
The application deadline is November 1. The award term is July 1, 2018, to June 30, 2020. The award provides $70,000 annually. For more award information, click here or contact Jerome Schultz at jschultz@aaaai.org.
2018 AAAAI/Elliot and Roslyn Jaffe Third/Fourth Year Fellowship Food Allergy Research Award at Mount Sinai
The AAAAI in conjunction with the Jaffe Family Foundation is pleased to announce the 2018 AAAAI/Elliot and Roslyn Jaffe Third/Fourth Year Fellowship Food Allergy Research Award, a one-year award that provides $65,000 for salary and fringe benefits. The application deadline is November 1.
The award supports the development of an academic food allergy research career of a third or fourth-year allergy/immunology fellow-in-training or gastroenterology fellow-in-training in the specialty of food allergy and immunology at Icahn School of Medicine at Mount Sinai. The funding term for the award is July 1, 2018, to June 30, 2019. Applicants from outside Mount Sinai are encouraged to apply.
Click here for complete application information or contact Jerome Schultz at jschultz@aaaai.org.
Find the Next Step in Your Career
---
Web Tips
New Skin Allergy Resources for Your Patients in English and Spanish
Skin allergies are one of the most visited topics on the AAAAI website. To help patients gain a better understanding of conditions, we have three new detailed articles on hives/angioedema, contact dermatitis and eczema. You can find these articles, in both English and Spanish, in the Member's Library under skin allergy. The articles with flames by the name indicate they are printable versions.
---
From the President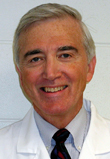 Dear Colleagues,
The Summit for the Future of Allergy and Immunology, taking place October 19-22 in Washington, DC, is quickly approaching. This event encompasses one of my presidential initiatives and I've focused on why I believe it's crucial in a previous message. With the logistics and attendees solidified, I can now share further details with you about what will take place there.
First, let's set the stage. The healthcare, research, pharmaceutical and regulatory environment in which physicians operate is rapidly evolving. Reimbursement for physician services is changing from "fee for service" to "outcomes" based compensation. Physicians are moving away from private practice to working as employees for healthcare systems. Compensation of physician employees is increasingly based on outcomes prioritized by the healthcare organization. These changes represent significant challenges for physicians of all types, but this is especially true for allergy/immunology (A/I).
I'm not saying all of this to scare you into early retirement. Rather the point is to emphasize that we cannot sit idly by and hope for the best. We have to take a proactive approach to ensuring our future. To do so, it is essential that we examine how A/I services are (and will be) compensated, as well as how we provide value added to patients, the public, organized healthcare entities and other stakeholders. We also need to understand how healthcare funding and organizational decisions will be made that impact our specialty.
Thus, the overall agenda for the Summit for the Future of Allergy and Immunology is built to allow us to undertake a SWOT (Strengths, Weaknesses, Opportunities and Threats) analysis of specific factors facing our specialty. The format is designed to include a number of overview presentations by presenters with specific expertise or experience in these areas, followed by breakout sessions in which workgroups will be asked to undertake a SWOT analysis/discussion of specific questions.
At the end of Friday and Saturday, workgroup leaders will report out on the results of each workgroup discussion, followed by a general group discussion. On Sunday morning, a summary discussion will be conducted. The results of this Summit will ultimately be developed into a white paper and shared with AAAAI leaders and members.
To give you an idea of what the overview presentations will address, here is a list of the topics:
Current A/I Clinical Revenue Streams
Future Trends in Healthcare Delivery and Reimbursement
How Do Payors View A/I?
Corporate A/I and New Employment Patterns for Physicians
Scope of Practice Opportunities for A/I
A/I Clinical Finances in the Academic Healthcare Setting
Research Funding for A/I
Training the Next Generation of A/I Physicians
Why Should Your Healthcare System Care about A/I?
MOC and Other Regulatory Issues
The questions that the workgroups will discuss in the breakout sessions are related to these areas. Examples include: What is the future for immunotherapy and skin testing in allergy practice? What A/I activities and services will payors embrace as value-added? Will more A/I physicians be in practice or employed physicians, and what are the pros and cons of each? How do A/I physicians position themselves in the evolving medical market place?
As I've mentioned previously, it is very important that we involve both voices inside and outside the specialty at the Summit. Thus we will have representation from the AAAAI Executive Committee and Board of Directors, interest sections, the Federation of Regional, State and Local Allergy, Asthma & Immunology Societies Assembly, Office of Practice Management and our journals. We will also have representation from academic administrators, government, payors, large group practices and related organizations including the American Board of Allergy and Immunology and the American College of Allergy, Asthma & Immunology.
Since we are a small specialty, I feel that it is important to have as unified a view on our future as possible, or at least to have an open discussion on our differences in opinion.
As I look forward to the Summit, I am eager to get all of our participants' perspectives, which will help us organize our lobbying, programming and educational initiatives to prepare us to compete successfully in the ever-changing healthcare environment.
Sincerely,

David B. Peden, MD, MS, FAAAAI
AAAAI President
---