AAAAI e-news now: June 2017
---
In the News
AAAAI President Featured in USA Today "Asthma & Allergies" Supplement
AAAAI President, David B. Peden, MD, MS, FAAAAI, was featured in an article in the USA Today Supplement "Asthma & Allergies." His foreword included information on the prevalence of allergic disease and emphasized the benefits of seeing a board certified allergist/immunologist. To view the article, click here.
AAAAI Fellow Leads Study Investigating Cancer Drug as Asthma Treatment
In a recent study in the New England Journal of Medicine (NEJM), lead investigator Elliot M. Israel, MD, FAAAAI, and his team looked into the possibility of using the cancer drug imatinib, commonly called Gleevec, as a possible treatment for severe refractory asthma. Patients on imatinib with severe asthma had decreased airway hyperresponsiveness, mast-cell counts and tryptase release compared to the placebo group. The study involved 62 patients. Half of the patients were treated with the drug and 8 of those patients dropped out. To learn more, read the article on STAT or view the article "KIT Inhibition by Imatinib in Patients with Severe Refractory Asthma" on NEJM's website.
---
News Briefs
Get an Employment and Human Resources Legal Primer
Your staff is the lifeblood of your practice. A seasoned labor and employment attorney will walk you through key aspects of employment and human resource law affecting your practice including hiring and firing, employee handbooks and more at the new 2017 Practice Management Workshop session "HR Legal Primer: Best Practices for Allergy Practices."
The Practice Management Workshop will be held July 14-16 in Rosemont, Illinois. Click here to register. Sessions are designed to cover many aspects of allergy practice management, so come alone or bring your entire staff and join us for this informative, practice-changing workshop. If you have any questions, email practicemanagement@aaaai.org or call Lauri Sweetman at (414) 272-6071.
Click here to make your hotel reservation. Individual or group reservations can be made until June 22.
Get Ready for the 2018 Joint Congress: Abstract and NEW Case Report Submission Opening Soon
Mark your calendars. Abstracts for consideration at the 2018 AAAAI/WAO Joint Congress can be submitted from July 5 through August 31 on the Joint Congress website. Research presentations are an important part of the Joint Congress, contributing significantly to the overall scientific content of the meeting and providing an excellent opportunity to share findings with other delegates. Accepted abstracts will also be published in a supplement to The Journal of Allergy and Clinical Immunology (JACI).
New: Case Report Poster Session
The Joint Congress will also include a special, one-time Case Report Poster Session. This forum will provide the opportunity to share novel or challenging patient care experiences with attendees. Accepted case reports will not be published in the JACI but will be made available after the meeting on the WAO's website. The Case Report Poster Session submission will follow the same timeline as the abstract submission and will also be available at the Joint Congress website.
Late breaking abstract submission is scheduled to begin October 30 and close November 13.
Introducing "Eczema and Contact Dermatitis in the Allergy/Immunology Practice"
Are you seeking additional training in the causes and mechanisms of atopic and contact dermatitis? Need to enhance your overall hands-on skills to accurately apply patch tests and interpret the results? Mark your calendar for the new, live course "Eczema and Contact Dermatitis in the Allergy/Immunology Practice" on Saturday, October 7 in Dallas, Texas.
This one-day course led by leading dermatologists and allergists will offer didactic presentations focusing on eczema and allergic contact dermatitis, common allergens and the testing methods available to identify the source of the allergic reaction. In addition, attendees will learn about differential diagnosis procedures and appropriate patient counseling strategies and have the opportunity to practice administering patch tests using two of the most common testing kits currently available.
Space is limited to only 100 attendees. For pricing and additional information, visit the AAAAI Continuing Education Center.
An Opportunity to Join JACI: Apply for the New Web and Social Media Editor Position
The Journal of Allergy and Clinical Immunology (JACI) is seeking candidates for the new position of Web and Social Media Editor. This is a compensated position created to oversee the development of the JACI's digital footprint using current and future platforms. Responsibilities include optimization of JACI website, content development, quality control, optimization for user-friendliness, and research and development of innovative initiatives.
Qualifications:
General understanding of, and experience in, a wide range of personal computing, Internet, web publishing technologies, app technologies and emerging new Internet/social media technologies and platforms.
Previous website management experience and knowledge of social networking strategies.
Skill in workgroup leadership, project development, collaboration and consensus building.
Current active membership in the AAAAI.
Term: Three year renewable term.
Application Deadline: Monday, June 26
To learn more about the duties and qualifications for this position or apply for the role, contact the JACI Managing Editor, Justin Byrne, at jbyrne@aaaai.org.
Have a $240,000 Idea?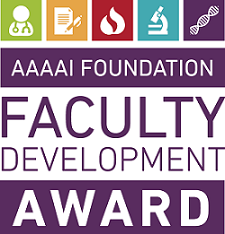 The AAAAI Foundation is pleased to announce the submission period will soon be open for the 2018 Faculty Development Award. This award, which provides $240,000 in funding over a three-year period, is intended to support a junior faculty member in the specialty of allergy, asthma and immunology. The award term is July 1, 2018 to June 30, 2021.
The application process has two steps to streamline the process for applicants and the review committee. The first step is a letter of intent. This two-page document can be submitted from June 30 to September 5. Results will be announced the week of October 10. At that time, 10 applicants will be invited to participate in the second step by completing full applications, due November 15.
| | |
| --- | --- |
| June 30, 2017 | Letter of Intent Period Opens |
| September 5, 2017 | Deadline for Letters of Intent to be submitted |
| October 10, 2017 | Invitation from Grant Review Committee for Full Applications |
| November 15, 2017 | Full Application Deadline |
| January 2018 | Grantee Notification |
Applications will be available online by visiting the AAAAI Grants and Awards page. See the eligibility section of the application for complete details. For further information, contact Jerome Schultz at jschultz@aaaai.org.
The Best Funding for Research is Free
The AAAAI is proud to offer several research grant opportunities to eligible members. Review the following awards to see if they can help you advance your research. The submission period for both awards begins June 30.
2018 Hope APFED/AAAAI Pilot Grant Award
The 2018 Hope APFED/AAAAI Pilot Grant Award was established to allow investigators from a variety of disciplines to initiate new projects relevant to eosinophilic disorders, excluding asthma, rhinitis and eczema. Successful applications will focus on the development of new ideas which are likely to lead to future external funding. The 2018 Hope APFED/AAAAI Pilot Grant Award is a collaborative award program between the AAAAI and the American Partnership for Eosinophilic Disorders (APFED).
Interested applicants must apply between June 30 and November 15, 2017. The award term is July 1, 2018 to June 30, 2020. The award provides $70,000 annually. For more award information, click here or contact Jerome Schultz at jschultz@aaaai.org.
2018 AAAAI/Elliot and Roslyn Jaffe Third/Fourth Year Fellowship Food Allergy Research Award at Mount Sinai
The AAAAI in conjunction with the Jaffe Family Foundation is pleased to announce the 2018 AAAAI/Elliot and Roslyn Jaffe Third/Fourth Year Fellowship Food Allergy Research Award, a one-year award that provides $65,000 for salary and fringe benefits. Applications must be submitted between June 30 and November 15, 2017.
The award supports the development of an academic food allergy research career of a third or fourth-year allergy/immunology fellow-in-training or gastroenterology fellow-in-training in the specialty of food allergy and immunology at Icahn School of Medicine at Mount Sinai. The funding term for the award is July 1, 2018 to June 30, 2019. Applicants from outside Mount Sinai are encouraged to apply.
Click here for complete application information or contact Jerome Schultz at jschultz@aaaai.org.
CMS Approves AAAAI QCDR
The Centers for Medicare and Medicaid Services (CMS) has released its approved 2017 MIPS QCDR vendors list on the Quality Payment Program website.
Here's what you and your clinical staff should be doing now:
The AAAAI QCDR has you covered! You can fulfill all three performance categories that require reporting for full participation in MIPS. Find more about the registry at aaaai.org/qcdr and browse the resources we have available at the AAAAI MIPS Reporting page.
By using the AAAAI QCDR, you can avoid penalties and reductions. Tell your EMR vendor that you need to be connected to the AAAAI QCDR. To set up your EMR system to feed data into the AAAAI QCDR, they must submit a request directly to busdev@premierinc.com. Please know that some EMR brands and versions may require a custom integration, possibly requiring an additional one-time implementation fee.
Access Key Sessions You Missed at the 2017 Annual Meeting
Given the magnitude of the high quality program at the 2017 Annual Meeting, many delegates are unable to attend every session they would like. In order to overcome this hurdle, the AAAAI has recorded over 50 key sessions that can be accessed anytime via the 2017 Virtual Annual Meeting.
The 2017 Virtual Meeting was designed in a fashion that promotes convenience, flexibility, continual learning and maintenance of certification. For additional details or to order sessions, click here.
Looking for the Next Step in Your Career?
---
Web Tips
Controlling Hay Fever Symptoms with Accurate Pollen Counts
Are your patients questioning the difference between pollen counts and pollen forecasts? Point them to this article in the Conditions & Treatments Library, available in both English and Spanish, for an explanation.
---
From the President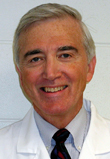 Dear Colleagues,

Back in 2008, the AAAAI Board of Directors recognized that some of our talented leaders decline to serve as Secretary-Treasurer (a position which ascends to AAAAI President) because of the time commitment involved. One of the ways the Board chose to lessen the time commitment of the AAAAI President and allow that person to better serve our members and the specialty was to create a part-time paid position of Executive Vice President. This individual assists the President and Executive Committee in fulfilling their obligations to the AAAAI.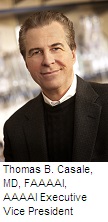 Thomas B. Casale, MD, FAAAAI, has served as AAAAI Executive Vice President since the role was created in 2008. He officially took office in May of that year and has done a tremendous job in the almost 10 years that he has held the position.
Executive Vice President is not an easy job as you might imagine. Among other responsibilities, you need to understand the structure, operations and history of the AAAAI, provide rapid response to issues and communications, and travel to all major AAAAI and related organization meetings. Tom has been an exceptional example of how to fulfill these duties while supporting—but not overshadowing—each AAAAI President. The AAAAI Presidents who have served while Tom has been Executive Vice President have relied on his counsel, and considering Tom served as AAAAI President himself he was able to draw from experience.
If you attended the Business Meeting at the 2017 Annual Meeting in Atlanta you were among the first members to hear the news, but Tom has informed the AAAAI that he will be stepping down after the 2018 AAAAI/WAO Joint Congress in Orlando. It is hard to imagine someone else in the Executive Vice President role since Tom has occupied it since its inception, but we are already in the process of finding a replacement.
Past President Robert F. Lemanske, Jr., MD, FAAAAI, is chairing the task force that has been formed to search for a successor. Invitations to apply were sent in April to past AAAAI Presidents and Board members since being cognizant of our organization's structure and operations is so vital. Rob and the rest of the task force, which is made up of past Presidents and current Board members, have reviewed the applications we received. The next step will be holding in-person interviews in August. Once the interviews have taken place, the task force will provide its final recommendation for approval at the November Board meeting.
The new Executive Vice President will likely start in January 2018 or shortly after, working alongside Tom until he officially steps down after the Joint Congress in Orlando. You can expect an announcement in late 2017 regarding who has been selected as our new Executive Vice President. In the meantime, please join me in expressing the utmost appreciation to Tom for everything he has done for the AAAAI and our specialty in the near decade he has served as Executive Vice President. The next person to hold the position will have very large shoes to fill, but I am confident he or she can rise to the challenge.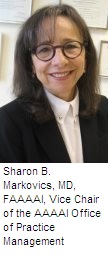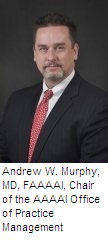 Since we are discussing leadership transitions, I also want to recognize Andrew W. Murphy, MD, FAAAAI, and Sharon B. Markovics, MD, FAAAAI. Drew and Sharon are the new Chair and Vice Chair of the AAAAI Office of Practice Management, respectively. Past President Linda Cox, MD, FAAAAI, previously served as Chair and is owed immense thanks for her time and efforts leading such an important group.
The Office of Practice Management was formed during the presidency of James T. Li, MD, PhD, FAAAAI, to serve as a dedicated resource for AAAAI members on practice management issues. A number of the AAAAI's most valuable benefits, including our ask the coding expert service at coding@aaaai.org and Practice Matters newsletter (Drew also serves as its editor), fall within the realm of the Office of Practice Management. Read more about what the Office of Practice Management does here.
I am eager to see how Drew and Sharon use their experience as clinicians to continue carrying the Office of Practice Management forward by empowering and supporting their fellow allergist/immunologists in practice.
Sincerely,

David B. Peden, MD, MS, FAAAAI
AAAAI President
---