Last Chance to Pre-Register for AAAAI Foundation Events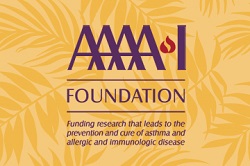 Pre-registration for the AAAAI Foundation Benefit and Run/Walk, as well as pre-sales for Support Ribbons, closes February 21 at 11:59 pm CT. Delegates can register onsite beginning March 1 at the Foundation booth in the Orange County Convention Center.
Join us for an evening of fine food, music and the presentation of our 2018 Faculty Development Awards on Saturday, March 3 from 7:00 to 10:00 pm at Ports of Call, SeaWorld Orlando.
The Benefit features the announcement of the 2018 Faculty Development Award recipients, a seated dinner, cocktails and photos with SeaWorld's Animal Ambassadors.
The AAAAI Foundation's 5K Run/Walk: Light Up the Night allows Joint Congress attendees the opportunity to run for research and raise awareness for allergy/immunology. The Run/Walk takes place March 4. The race starts at 5:30 pm, but join us at 4:30 pm to check in and warm up. The race starts outside the South Concourse Doors at Orange County Convention Center.
The Run/Walk is proudly sponsored by Shire.
Foundation Support Ribbons
Friend of the President Ribbon
Thank our AAAAI President, David B. Peden, MD, MS, FAAAAI, for his year of service to the AAAAI with the $100 purchase of a Friend of the President Ribbon.
New Allergist/Immunologist Assembly (NAIA) Ribbon
Your donation of $50 as a member of the New Allergist/Immunologist Assembly (NAIA) entitles you to wear a NAIA Supports AAAAI Foundation Ribbon during the Joint Congress.
All support ribbon proceeds go to our annual Grow Allergy & Immunology Now (GAIN) Campaign.
How to Register
You can pre-register for the Benefit and 5K Run/Walk and purchase Support Ribbons through the Joint Congress registration site. Look for Foundation items in the "Activities and Guest" section. You can also purchase Foundation items by calling Foundation staff at (414) 272-6071.